Case report
Open Access
Open Peer Review
This article has Open Peer Review reports available.
Iatrogenic aortic dissection after minimally invasive aortic valve replacement: a case report
Journal of Cardiothoracic Surgery
2016
11:136
Received: 16 May 2016
Accepted: 23 August 2016
Published: 24 August 2016
Abstract
Background
As minimally invasive cardiac and vascular procedures are on the rise, the incidence of iatrogenic acute aortic dissection (IAAD) will increase. Cardiovascular professionals should be aware about the risk factors, means of prevention and best management options for IAAD in the perioperative setting.
Case presentation
We present the successful clinical management of a complicated case of IAAD after minimally invasive aortic valve replacement.
Conclusion
High index of suspicion is required for prompt diagnosis of IAAD; collaboration of the whole perioperative team is imperative for management of this catastrophe.
Keywords
Case ReportIatrogenic aortic dissectionAVRPCITEVARTAVR
Background
Iatrogenic acute aortic dissection (IAAD) is a fatal complication that can occur after open cardiac surgery, complex percutaneous coronary intervention (PCI), thoracic endovascular aortic aneurysm repair (TEVAR) and transaortic valve replacement (TAVR). As minimally invasive procedures are on the rise, the incidence of IAAD will increase. IAAD carries high mortality and represents a huge challenge to all cardiovascular professionals including cardiac surgeons who encounter this clinical scenario [1]. Here we present the successful clinical management of a case of IAAD after minimally invasive aortic valve replacement (AVR). We will review the literature for incidence, risk factors, diagnosis and management of IAAD in open cardiac surgery, PCI, TEVAR and TAVR.
Case presentation
Sixty-seven years old female patient with history of atypical chest pain, exertional dyspnea, asthma and hypothyroidism was diagnosed with aortic insufficiency. Her preoperative echocardiography findings were dilated aortic root (3.7 cm), mild left ventricular hypertrophy and ejection fraction (70 %). Evaluation by cardiac catheterization revealed severe aortic regurge and normal coronary arteries. An 8 cm median sternotomy was performed. The distal ascending aorta was cannulated at blood pressure of 100 mmHg systolic and cardiopulmonary bypass (CPB) was initiated with good flow and pressures in the cannula. The surgeon noticed a hematoma around the cannulation site. With the aid of Transesophageal echocardiography (TEE) done by the anesthesiologist, diagnosis of a type A acute aortic dissection was made, that was extending to the aortic root and the descending aorta (Fig.
1
). CPB was terminated without any significant event, and right common femoral artery was cannulated for alternate route of CPB. The sternotomy incision was extended to a full sternotomy. Cooling for 48 min to 18 degrees Centigrade nasopharyngeal temperature was achieved for deep hypothermic circulatory arrest. Bentall procedure with a composite Carpentier-Edwards Perimount 23 mm tissue valve and a 28 mm Hemashield graft was performed. Circulation was resumed and patient was rewarmed. Both coronary arteries buttons were attempted but failed due to frail intima at the coronary ostia. Left main coronary artery was reimplanted via a Cabrol procedure with an 8 mm Hemashield graft. Bypass of the right coronary artery with reverse saphenous vein graft was also done. We weaned the patient from CPB but there was progressive dilatation of the right ventricle and left ventricular dysfunction, so we were concerned with the graft for the left main coronary artery. We went back on CPB to perform bypasses to the left anterior descending artery and the obtuse marginal artery using reverse saphenous vein grafts. Then, we weaned the patient from CPB again with difficulty on high doses of inotropic support. Due to long CPB time (336 minutes), the team decided to support the patient with venoarterial extracorporeal membrane oxygenation (VA ECMO) by re-cannulating the right common femoral artery and vein. The chest was left open at the end of the procedure due to cardiac edema and distension. The patient was transferred to the ICU in extremely critical condition. The cross-clamp time was 70 min and circulatory arrest time was 17 min. The patient required massive blood transfusion (140 units of blood products) in the perioperative period. The chest wall was closed 3 days postoperative and was kept on ECMO support for 17 days. The patient had a vigorous postoperative course complicated by cardiac tamponade that required multiple bedside washouts. She also suffered from subacute right middle cerebral artery territory infarct that developed intraoperative with residual left sided hemiparesis. She also had prolonged intubation due to failure of multiple spontaneous breathing trials and she required tracheostomy on the twentieth postoperative day. Her last echocardiography findings before discharge were normal right and left ventricular sizes with mild to moderate systolic dysfunction (Ejection fraction: 30–35 %). The patient was discharged on the 35th postoperative day and she is continuing her rehabilitation and following up. One year later, she is totally independent and in good health, and her echocardiography showed normal ejection fraction.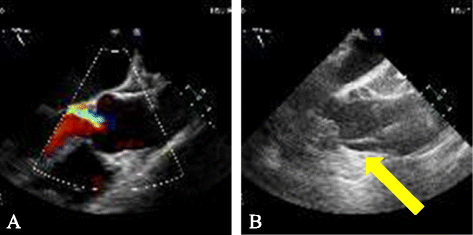 Conclusion
IAAD is a dreadful complication that carries high morbidity and mortality. All cardiovascular professionals should be ready to diagnose and quickly intervene specially with the increase in numbers and complexity of minimally invasive procedures.
Abbreviations
ACT:

Activated clotting time
APTT:

Activated partial thromboplastin time
AVR:

Aortic valve replacement
CPB:

Cardiopulmonary bypass
ECLS:

Extracorporeal life support
ECMO:

Extracorporeal membrane oxygenation
ELSO:

Extracorporeal life support organization
IAAD:

Iatrogenic acute aortic dissection
NHLBI:

National, heart, lung and blood institute
PCI:

Percutaneous coronary intervention
ROTEM:

Rotational thromboelastometry
TAVR:

Transaortic valve replacement
TEE:

Transesophageal echocardiography
TEVAR:

Thoracic endovascular aortic repair
UNFH:

Unfractionated heparin
VA ECMO:

Venoarterial Extracorporeal membrane oxygenation
Declarations
Funding
The authors have received no funding for this work.
Availability of data and materials
Not Applicable.
Authors' contributions
HA provided anesthetic management for the case, and helped with the drafting and proofreading of the manuscript. MER, LB, JR and DI participated in background literature review, drafting, and proofreading of the manuscript. JC is the lead surgeon on the case; he emphasized the significance of this topic, and helped proofread the manuscript. JR and DI are from the perfusionist team at our institution who participated in the perioperative management of this case. All authors read and approved the final manuscript.
Competing interests
The authors declare that they have no competing interests.
Consent for publication
Written informed consent was obtained from the patient for publication of this Case report and any accompanying images. A copy of the written consent is available for review by the Editor-in-Chief of this journal.
Open AccessThis article is distributed under the terms of the Creative Commons Attribution 4.0 International License (http://creativecommons.org/licenses/by/4.0/), which permits unrestricted use, distribution, and reproduction in any medium, provided you give appropriate credit to the original author(s) and the source, provide a link to the Creative Commons license, and indicate if changes were made. The Creative Commons Public Domain Dedication waiver (http://creativecommons.org/publicdomain/zero/1.0/) applies to the data made available in this article, unless otherwise stated.
Authors' Affiliations
(1)
Department of Anesthesiology, The Ohio State University, Wexner Medical Center, Columbus, USA
(2)
Department of Otolaryngology - Head & Neck Surgery, The Ohio State University, Wexner Medical Center, Columbus, USA
(3)
Department of Surgery, Division of Cardiac Surgery, The Ohio State University, Wexner Medical Center, Columbus, USA
(4)
Perfusion Services, The Ohio State University, Wexner Medical Center, Columbus, USA