Review

Open Access

Open Peer Review
This article has Open Peer Review reports available.
Localizing intramyocardially embedded left anterior descending artery during coronary bypass surgery: literature review
Journal of Cardiothoracic Surgery
2013
8:202
Received: 1 June 2013
Accepted: 28 October 2013
Published: 30 October 2013
Abstract
Proper detection of the deeply embedded left anterior descending artery remains a challenge. Many authors proposed different methods for artery identification, such as ultrasound Doppler, cineangiography, retrograde dissection overlying tissues, and exposure over the probe. Choice of the technique often depends on the surgeon's acquaintance and experience. The article compares and summarizes different procedures for the detection of intramyocardially located left anterior descending artery.
Keywords
Coronary artery bypass grafting
Embedded coronary artery
Review
Introduction
The left anterior descending (LAD) coronary artery is the most important artery for coronary revascularization procedures. It is predominantly grafted by left internal mammary artery, what is considered as a "gold standard" of coronary bypass surgery. It usually has a surface course and may be easily identified. However, in some cases, the artery passes intramyocardially, or acquires a moderate layer of fat, what makes it difficult for detection.
In a study of seventy patients undergoing coronary artery bypass grafting (CABG), intramyocardial coronary arteries occurred in 17.7%. The most common intramyocardial part (58.6%) represents on the border of proximal and middle portions of the coronary artery[1].
The standard and informative method for cardiac arteriolar system investigation is coronary angiography. Meticulous examination of the angiographic data, especially oblique views, is essential for preoperative identification embedded LAD. The intramyocardial part of the LAD usually dives at an acute angle into the myocardium and appears straight, unlike the serpentine course of the surface vessels (Figure
1
)[
2
,
3
]. In some cases, a small portion of the artery comes up to the surface, which may be grafted, or may be a reference to locate other place on the artery for further grafting.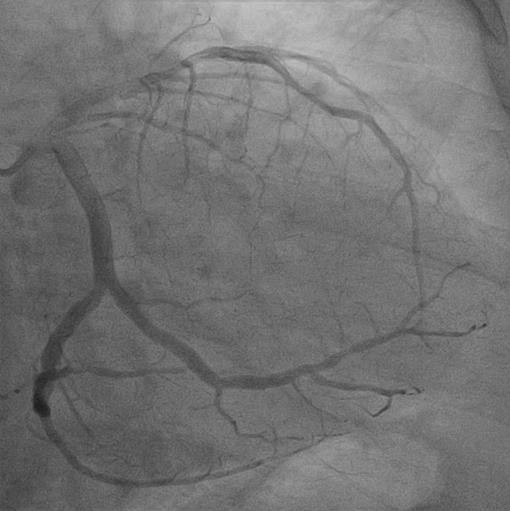 Intraoperative investigation of the outer surface of the heart and definition of the main landmarks, arterial and venous branches is the clue to less traumatic determination LAD. It is important to remember that the intramyocardial LAD is usually to the right of the great cardiac vein[2]. Sometimes LAD may be found beneath the small but visible groove on the surface of the heart. That happens because artery embriogenically has underdeveloped connections with the epicardium. When fat accumulates subepicardially, the LAD often pulls the epicardium forming a groove.
In patients with angiographic evidence of an intramyocardial LAD, the course of the vessel should be investigated before aorta cross-clamped[2]. A self-retaining eyelid retractor is a simple, readily available and useful tool for searching embedded vessel.
Techniques
Many authors have proposed different procedures for determining LAD. Routine dissection approximate location of the artery seems to be the easiest way, but can lead to complications such as penetration into the right ventricle, bleeding from surrounding tissues, formation of compressing hematoma and ultimately failure to find the artery. After gathering available in the literature data, we distinguished five main artery locating techniques that can be used in daily practice (Table
1
).
Table 1
Comparison of different methods for the localization of the LAD
N

Author

No. of patients/ complications

Technique

Advantages

Disadvantages

1

G. Robinson[4]

2/0

Using the probe

Easy and quick

- Intimal damage.

- Requires closure of the distal arteriotomy, which can produce stenosis.

R.L. Fisk[6]

18/0

E. Apostolakis[5]

26/0

- Identification of the probe.

- Within the septal.

- Myocardium can be difficult.

2

I. Gandjbakhch[7]

-/-

Apical dissection LAD in proximal direction

Does not require any special devices

- Penetration of right ventricular chamber

R.V. Parachuri[8]

176/4

- Injure diagonal arteries.

3

L.F. Hiratzka[9]

2/0

Doppler

Noninvasive

- Need for US with probe.

Safe

- Not for use on arrested heart.

K. Oda[12]

5/0

Limited use in proximally occluded or severely stenotic arteries.

S. Miwa[10]

6/0

A.S. Olearchyk[11]

1/0

4

U. Aydin[18]

2/0

Cineangiography

Simple technique

- Need for hybrid operating theater.

- Limited use in patients with kidney failure.

- Only in on-pump patients (with cross clamping).

5

M. Oz

-

Elevating LAD with beneath located elastic tape.

Simple technique

- Risk of injuring the LAD.

- Risk of penetration into the right ventricle.

- Need for the special suture.
Comments and recommendations
The embedded LAD may be an accidental finding on the operating table, the management of which requires special knowledge and experience. Up to now, many various techniques have been proposed for the LAD location. Often the choice of a technique depends on the familiarity and previous experience of the surgeon. Each of these techniques has its own advantages and disadvantages.
Here we developed a stepwise algorithm that can be changed depending on the anatomical features and equipment availability. Basically, it represents stages from the safest to the more invasive.
a.

Weighted deliberate examination of the surface of the heart can sometimes be sufficient to detect the artery.

b.

If that is not enough, then it is preferable to start from atraumatic methods such as Doppler US or cineangiography, depending on the use of cardiopulmonary bypass.

c.

Not all surgical theatres are equipped with advanced medical imaging technologies; also, these methods are not applicable for all cases. Then it is preferably to perform retrograde dissection of the epicard, fat and muscles overlying LAD. The dissection must be strictly vertical to the artery.

d.

When the depth of the wound reaches about 4 mm, we recommend stopping dissection, to prevent right ventricle perforation; and to change strategy towards exposure LAD over the fine probe (described above). The use of the probe could be the last resort, as unlike to other techniques, it may adversely affect the vessel intima, what may further lead to early stenosis or arterial thrombosis.
Figure
2
is showing the clinical algorithm for locating the LAD during CABG.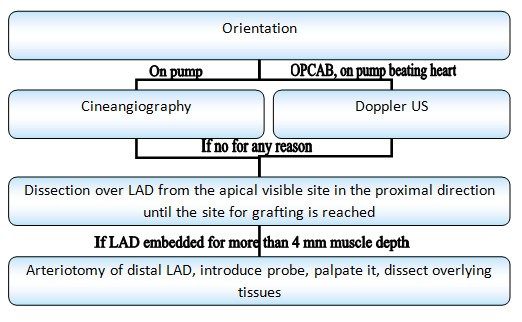 Conclusion
Embedded left anterior ascending artery is not uncommon, and intraoperative detection remains a challenge. The technique for LAD exposure should be reproducible, widely available, non- or miniinvasive, implementable for all types of vessel lesions and at the arrested heart. In this respect epicardial ultrasound scanning promising replace other techniques. We propose an algorithm that can serve as a guide, but does not call for absolute obedience, as every case still requires an individual approach.
Authors' Affiliations
(1)
Department of Surgery, Cardiothoracic Surgery Division, Sultan Qaboos University Hospital, Al Khoud, Muscat, Oman
Copyright
© Ziadinov and Al-Sabti; licensee BioMed Central Ltd. 2013
This article is published under license to BioMed Central Ltd. This is an open access article distributed under the terms of the Creative Commons Attribution License (http://creativecommons.org/licenses/by/2.0), which permits unrestricted use, distribution, and reproduction in any medium, provided the original work is properly cited.